Isn't it time you experience
responsible innovation in your cup?
Berry has created a technology that blends
superior performance with Environmental responsibility...
Environmental Responsibility

Made of #5 polypropylene - a durable plastic with wide recycling access.
Environmental Responsibility

The Versalite cup is widely recyclable, which may help to lower your company's overall carbon footprint.
Versalite Recycling Information
Recognized for Responsible Innovation by:

Safe
Polypropylene is one of the safest materials used to package food.
More Efficient than EPS Foam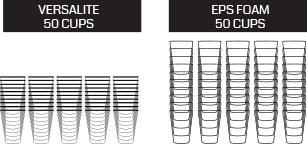 Versalite provides more efficiencies than EPS foam-based cups, including storing, shipping and operational needs.
Puncture and
Crack Resistant
The Versalite material significantly minimizes the chance for leakages.
One Lid Solution
Versalite cup sets can be available with a one lid solution for many size cups.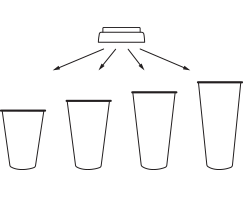 *Lid is not made from Versalite material
One Cup Solution
Versalite cups offer a one cup solution for hot and cold beverages because of its temperature control properties.
Superior Graphics
The Versalite cup can use up to a 10 color process which allows for more clarity and precision in printing.
Thermal Management
74% of consumers tested believed it would keep their coffee warm enough, without the worry of burning their hands.
Engineered Fit
Consumers in focus groups responded largely positively to a finger hold ledge on the bottom of the cup.
User Preference
8 out of 10 users
tested gave a significantly higher overall rating than all other cups in the marketplace.
So, what goes into your cup?